Post Date:
January 2, 2022
---
Quick & Easy Guide to Philippine Drone Laws, Certificates, and Registrations (2023 Updated)
Alexa from the Philippine Drone Network
Drones have never been more accessible and more popular in the Philippines than today.
As a result, the Civil Aviation Authority of the Philippines (CAAP) revised their guidelines to include non-commercial drones and ensure the safety of Filipinos who want to fly them as a hobby.
The CAAP also held a 4-part webinar to explain and answer questions about the latest Philippine Civil Aviation Regulations. This is the newest set of laws, safety, and certification regulations that still apply today in 2023.
These are the rules you need to follow until new regulations are published for drone and UAV pilots and operators (no date on that yet).
If you want to fly quadcopters, fixed wing drones, or other remotely piloted aircraft and UAVs (unmanned aerial vehicles), you need to know and follow these rules by heart – or risk being fined and your equipment confiscated.
Here are the most common questions about rules for flying a drone in the Philippines for this year:
1. Do I need a permit, license, or be certified to fly drones in the Philippines?
You don't need a permit and are not required to register your drone to fly recreationally. If you want to pilot a small drone for fun around your property or to post photos on your drone blog, go ahead.
However, there are some regions in the Philippines such as Boracay Island and Davao City with local laws that require registration. We always recommend to register your drone even if it's not required by the CAAP to avoid trouble like this, be CAAP-certified, and as a safety precaution.
You need a license, specifically a RPAS Controller Certificate (for yourself or your pilot), RPAS Registration Certificate (for your drone), and an RPAS Operator Certificate (for your business) from the CAAP if you plan to:
Operate drones commercially (ex: start a business for aerial photography/videography or construction surveying)
Fly big drones that weigh more than 7 kg
Fly in restricted conditions such as going inside restricted air space, conducting night flights, flying over populated areas, and going above maximum altitude (these also require special flight permits)
You can find the requirements to be certified by the CAAP and for the commercial use of drones in question 12.
Read more: Do I need a drone license to fly a drone for my blog or Youtube channel?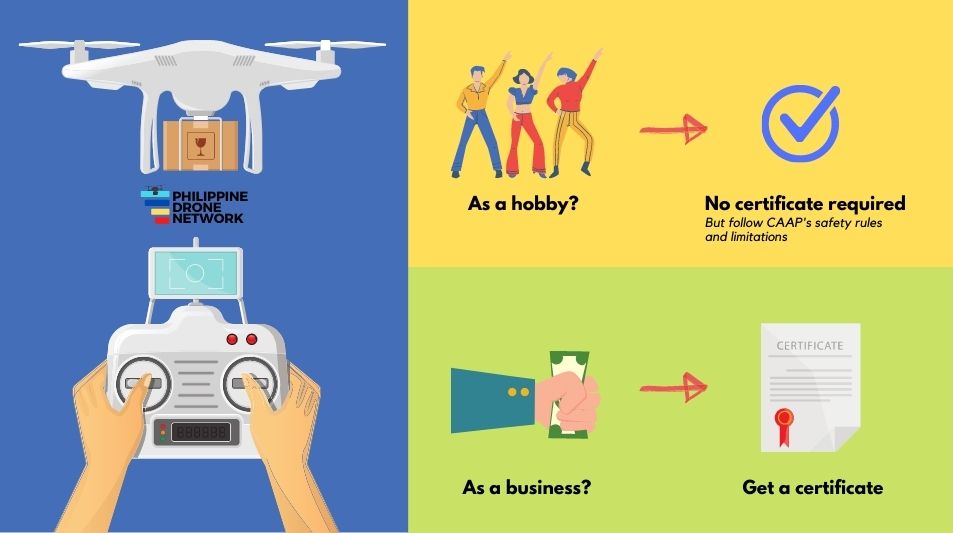 2. What kind of drones can I use as a hobby?
If you want to do it as a hobby and don't have any credentials or formal drone training, then you are only allowed to use small UAVs that weigh 7 kg or less (around 15.4 pounds). Most consumer-level drones you can buy are under this category and won't be a problem.
Remotely piloted aircraft that weigh more than 7 kg need to be registered with the CAAP first, AND you need to get a Controller Certificate before you can fly them.
There are more requirements if your drone weighs 150 kg or more. You'll need a Special Certificate for Airworthiness and an Experimental Certificate.
3. Can I fly my drone anytime?
No, you are only allowed to fly during day time when the sky is well lit (no night flying after sunset and before sunrise).
You can also only pilot your drone as long as you have a clear view of it and where it's going (within your visual line of sight). This also means no flying during bad weather because rain and fog can hide your drone.
4. What are no-fly zones I should avoid?
The biggest no-fly zones are airports. You need to stay clear at least 10 km from their area of operation which can extend beyond the actual airport property.
Highly populated areas are also considered no-fly zones. This includes:
Schools and universities
Malls and markets
Any place with large public gatherings
You also must also avoid places with controlled or restricted airspace like:
Government buildings (ex: Malacanang Palace)
Military bases
National parks (may sometimes require a permit from the local park supervisor)
5. How high can I fly my drone?
You can fly up to the maximum altitude of 400 feet above ground level (around 122 meters). You need approval from the CAAP to go higher.
Take note that this measures the distance between your aircraft and the ground directly below it as it flies. If you take off from a hill, building, or any elevated space then you need to adjust down your flight path when you go over lower ground because you will violate the maximum altitude.
Again, you must follow visual line of sight (VSOL) rules. Do not go behind buildings, large trees and other structures like billboards that will block your view and signal to the drone.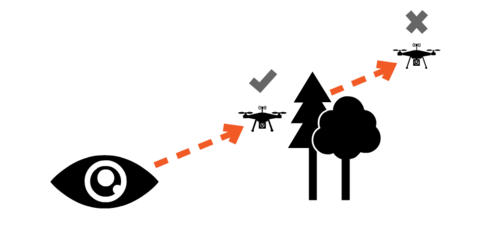 6. How many people must be in a place to be considered a populated area?
The CAAP does not give a solid number for this so it is your responsibility to use good judgement.
Remember that the point of the rule is for safety. The more people, the higher the chances someone will get hit if your drone malfunctions or crashes.
Anywhere there is a crowd or likely to develop a crowd is a populated area. That includes most streets in the city. It also covers concerts, sport events, and other performances.
7. Can I take pictures of my subdivision/condo/barangay?
You can take photos and record video as long as you follow all the rules above and respect people's privacy. Don't go into private property or record private places.
Remember that subdivisions and residential areas are considered populated zones that drones are not allowed to fly over. The Officer-in-Charge of the Regulatory Standards Development of the CAAP, Frank Marty, even said during their latest webinar last October 2020:
"There are several reports from authorities and sightings of drones in residential areas. This poses risks not only to the safety of the residents, but also to their privacy and security."
Keep your distance or else you risk getting penalized by the CAAP.
8. What are the drone safety rules, regulations, and limitations for hobbyists?
You are required to follow the rules below if you are not certified by the CAAP and do not have a special flight permit:
Only use small drones that weigh 7 kg or less
Only fly during daytime
Maintain visual line of sight (don't fly farther than where you can see it)
Ensure your aircraft is at least 30 meters (around 98 feet) away from other people not involved in the drone operation at all times
Stay away from populated areas and restricted or controlled airspace like schools, markets, government buildings, and army bases
Stay at least 10 km away from airports
Limit your altitude to a height of 400 feet maximum
Click here for a summary video of drone safety regulations in the Philippines made by the CAAP.
9. Can I get penalized for violating drone safety regulations?
Yes.
You may be fined anywhere between P20,000 and P100,000 for each violation of CAAP rules, even if you are only doing it as a hobby or recreationally.
10. I'd like to start my own business for drone photography and videos. Is that allowed?
Yes, it's perfectly fine to provide these services as a business as long as you have the necessary permits and certificates for commercial use.
11. What is considered commercial use?
The CAAP considers "any job or project that is done for remuneration" as a commercial operation.
In other words: if you're making money from it, then it's commercial and you need a certificate.
Examples of common commercial services include:
12. What are the requirements for commercial use of drones?
You first need to get the following 3 things before you operate:
Remotely Piloted Aircraft (RPAS) Controller Certificate – This proves you have enough skills and knowledge to safely operate remotely piloted aircraft
RPAS Operator Certificate – This recognizes your business has sufficient safety policies, well-trained staff, and proper facilities and equipment to provide drone services
RPAS Certificate of Registration – This document assigns official registration numbers to your aircraft that certifies them as fit to use
13. How do I apply for the RPAS Controller Certificate?
Applying as a drone pilot or controller is easy and the licensing staff are very helpful, but it does take time.
Click here for a comprehensive infographic guide on how to become a licensed drone pilot.
Here's a short summary of what you need to be CAAP-certified drone pilot or controller.
Prepare the following requirements and submit them in person at the CAAP licensing department:
Get a Routing Slip from the licensing staff and let them guide you through the next steps that includes taking the knowledge test.
After you pass the written test, you will be given a Knowledge Test Report. Submit this report to get a Skills Test Permit and schedule.
Show up on your scheduled day and pass the Skills Test. You can now apply for the Controller Certificate by submitting:

Knowledge Test and Skills Test results
2 1×1 pictures

Pick up your certificate after 5 working days
The Licensing and Certification Department address is located at the CAAP Annex Building, Old MIA Road, Pasay City. You can contact them at [email protected].
14. How do I apply for the RPAS Operator Certificate?
Click here for a comprehensive infographic guide on getting operator certification.
Below are the steps to get your business certified to use drones commercially:
Submit a Letter of Intent to the Flight Standard Inspectory Service (FSIS) Assistant Director General II, together with the Pre-Application Statement of Intent (PASI) Form (download here)
Optional: You may choose to schedule a meeting to discuss the process and requirements
Wait for FSIS approval. Once accepted, they will give you a list of additional requirements about your business, staff, policies, and facilities to submit. These may include:

User's manual from the manufacturer of your RPAS
Operations manual from your organization
Training manual from your organization
Civil Aeronautics Board Franchise (for agricultural purposes)
Lease/Service Contract (between contractor and agriculture company)
RPAS Insurance/Third Party Liability
Special Certificate of Airworthiness (if applicable)
SEC or DTI registration
RPAS Certificate of Registration from CAAP
Photocopy of your primary Controller Certificate and their resume
Organizational chart
Pictures of your facilities and equipment
Copy of the official receipt
Submit the documents, then wait again for FSIS to check if your documents are complete and if your organization meets their standards. If accepted, your organization will undergo several inspections:

Safety inspection of your facilities and equipment
Organizational inspection of your staff and management responsibilities
RPAS inspection where you will demonstrate your services while they observe and evaluate your operational and safety policies and procedures (ex: do you follow the flight procedures in your manuals)
Personal inspection of your qualifications if you are able to meet your responsibilities

If you pass all inspections, you will then be given final certification.
15. How do I register my drone and get a RPAS Registration Certificate?
Follow our step-by-step registration guide here for a more detailed explanation on the process.
Getting your drone officially registered can take 15 days to process, so make sure you do it right the first time. The steps are:
Write a Letter of Intent addressed to the Officer in Charge of the Flight Standards Inspector Service (FSIS) of the CAAP, submit it in person to their office and have the original copy marked as received. Make sure you include:

Your purpose for registration
Technical specifications, model, and serial number of your aircraft

Compile the following required documents while you wait a few days to a week for CAAP to respond:

Notarized and completed registration form (call CAAP for the latest version)
Technical specifications of your drone
History of ownership (only for leased units)
Proof of ownership (ex: invoice or affidavit of ownership)
Insurance Policy for Third party liability
Original DTI Certificate or SEC corporation documents (if applicable)
Secretary's Certificate (for corporations)
Import document (customs release certificate if your drone was held by customs)
RPAS Operator Certificate (if you have one already)
Registration fee of P1,500 + 12% tax if it's your first registration

Wait a few working days, then call CAAP and ask for your registration marking number.

Get a permanent waterproof sticker with your registration marking made and place it on your drone and the controller. This marker must be clear and visible at all times so make it big.
Print out colored photos of your drone that show the markings and serial number from multiple angles.

Return to CAAP with your drone and get your registration marking reservation approval letter. Submit this letter with the other required documents, pay the registration fee, then have your drone inspected.
Call CAAP and ask for an update of your registration when it gets close to 15 days. Return to their office and pick up your Certificate of Registration when it's ready.
16. Where can I ask other questions about drones and other remotely piloted aircraft in the Philippines?
For any questions or clarifications, send the Philippine Drone Network a message, leave a comment here, or contact the relevant department of the Civil Aviation Authority of the Philippines directly below:
Primary Email: [email protected]
Flight Standards Inspectorate Service: [email protected]
Licensing and Certification Department: [email protected]
Regulatory Standards Department: [email protected]
Phone: +63 2 7944-2142 or 7944-2143